Yoga with puppies...
A relaxing yoga practice is taken up a notch with puppies nosing their way into your Savasana. But you won't mind...trust us. We provide the puppies but not the yoga mats. Please bring your own.
Most behaviourists believe that early socialization is extremely important for puppies and we're happy to provide that. We believe that playing with puppies is extremely important for people because it's ridiculously fun. You will leave smiling and continue smiling for a long time...like forever.
BOOK NOW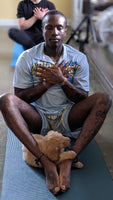 Downward Dog Detour...
The Yoga practice is for beginners and experts. It has an easy going flow so little interruptions like this won't really bother you.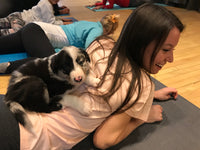 You might just fall in love...
You might just fall in love...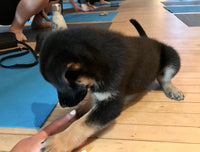 About Us
We are a family business in East Leslieville, Toronto. We also love puppies and yoga. So, we decided to start a puppy yoga class that we hope will benefit everyone. Good for the puppies and good for the people. We have special classes to raise money for rescues and love to be a part of philanthropic events. We hope you love our class! We love hosting it! It's all about the love.
Location
Location of Classes
Royal Canadian Legion
243 Coxwell Ave.
2nd Floor Studio
Toronto, ON
M4L 3B4